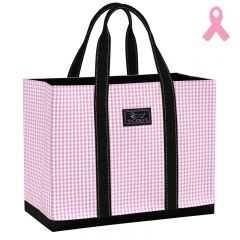 Deano- Breast Cancer
Psst... This Pink Check Pattern Helps Fight Breast Cancer!
A portion of all proceeds of this pattern are donated to support breast cancer awareness and research. Shop to give back 365 days a year!
Our first bag design remains our #1 best-seller. There's a reason for that—this tote with a burst-proof bottom is ideal for carrying pretty much everything. It's the bag you didn't know you needed but can't live without. The fold-flat design allows for easy storage.
Stable, burst-proof bottom allows tote bag to stand up on its own
Heavy-duty straps with comfort grip handles
Interior zipper pocket for safekeeping
Interior key ring