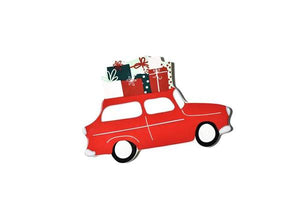 Holiday Car attachment - mini
The greatest gift is giving to others. Celebrate the feeling of taking your happy holiday on the road to spread cheer to those around you with our Holiday Car Mini Attachment. Add a personal touch of holiday décor with this Mini Attachment featuring cheerily wrapped presents piling on the bright red car.

Happy Everything! helps you find happy in the small moments and big ones each day brings. Whether you're packing the truck to visit loved ones or simply attaching this Holiday Car Mini Attachment to your favorite mini base this season, you'll never have to travel far to enjoy a happy life. Let our unique patterns and cheerful colors bring holiday décor to your home!

DETAILS
 

Ceramic, hook-and-loop

 

6in W x 4.25in H

 

Wipe clean, do not use soap