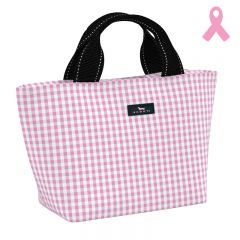 Nooner - Breast cancer
Psst... This Pink Check Pattern Helps Fight Breast Cancer!
A portion of all proceeds of this pattern are donated to support breast cancer awareness and research. Shop to give back 365 days a year!
Your new lunch date is compact, lightweight, and wide at the bottom for easy loading. This best-selling, insulated lunch box has top handles for easy carrying, fits nicely inside most SCOUT totes, and zips shut. The outside pocket is perfect for packing napkins and utensils, energy bars, or other treats.
Zipper closure to keep food cooler for longer
Foam insulation layer helps keep contents cool
Exterior zipper pocket on back, great for napkins and utensils
Wide at the bottom for easy loading