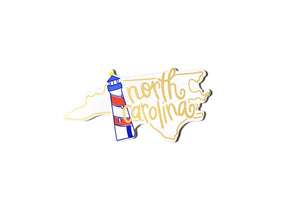 North Carolina attachment - mini
North Carolina Motif Mini Attachment by Happy Everything!
A charming addition to your home or a thoughtful gift for a newly relocated loved one, the North Carolina Motif Mini Attachment is a happy way to showcase state pride. Adorned with metallic gold details and a classic lighthouse, this attachment will add a stylish touch to any space.
Happy Everything! Attachments are the easily interchangeable complement to any of their bases. Simply affix a favorite attachment using its secure Velcro backing to a chosen base.
Size: 6" W x 3" H
Material: Ceramic, Velcro
Care Instructions: Wipe clean, do not use soap