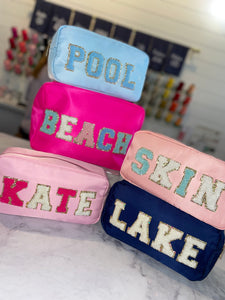 Large -Nylon pouch
These custom pouches are perfect for organizing your must-have essentials! Toss your sunnies and vacay essentials or tech or make-up in our Monogram Pouch or use it to store your make-up! How will you use your pouch?
Easy clean lining; spot clean exterior

10.25" x 5.25" x 3.25"
In the wording box, please tell us the patch you want and the color, for example:

KKL (all pink patches)
K (pink) K (mint) L (white)
KKL (all pink) 
Patches are adhered by tough 3M adhesive.